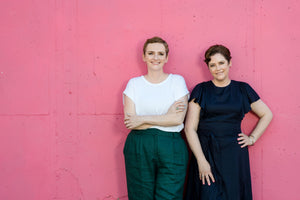 THE GIFT OF SELF-CARE
Brisbane sisters Aisling and Margaret Cunningham are very proud to launch Australia's first self-warming eye mask, a wonderful gift of self-care.  The business idea was born when Margaret heard about warming eye masks but was unable to find anything similar available in Australia. 

While creating their first Lula Eye Mask samples, Margaret received the unexpected news that she had breast cancer. Despite this set back, the sisters continued designing their new product with the eye mask samples assisting Margaret as she started her chemotherapy journey. A short six weeks later, Aisling was to receive the same shocking diagnosis as her sister - she too had breast cancer. 

Throughout their joint battle and treatments they continually tested and perfected the warmth and scents of the eye masks, needing them more than ever! When they were feeling unwell, were in hospital, in stressful times and when they couldn't sleep, the Lula Eye Masks always provided comfort.
Whether you're in need of a great night's sleep, help with meditation, you're feeling unwell or you've spent too much time in front of your screen, the Lula Eye Mask will ease your eyes and mind, helping you rest and relax.
"It is such a gift to take time for yourself. We hope the Lula Eye Mask inspires moments of self-care that bring calm and joy to busy lives - we know just how important it became for us."
The Lula Sisters xo