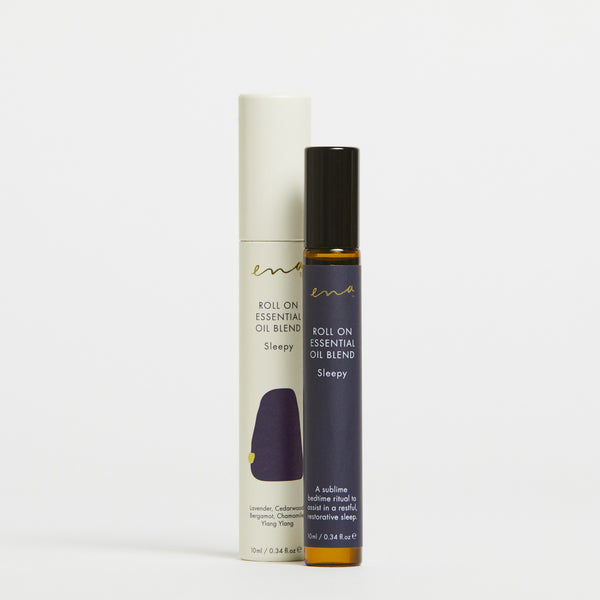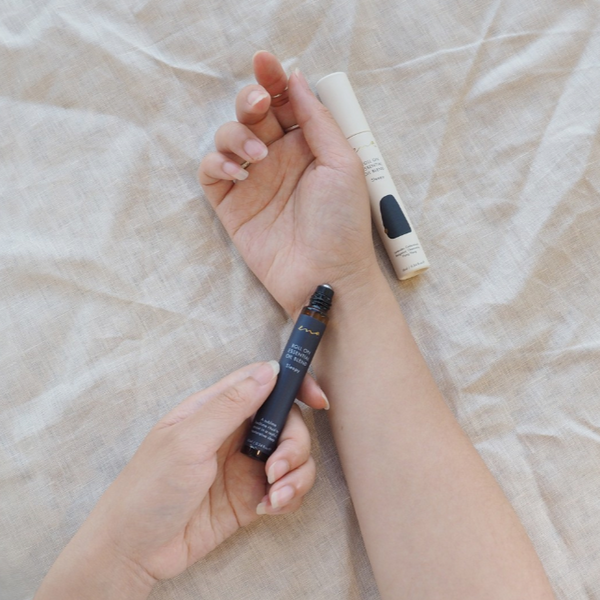 ENA ESSENTIAL OIL ROLL ON "SLEEPY"
10ml
ONLY AVAILABLE WITHIN AUSTRALIA

A sublime bedtime ritual to assist in a restful, restorative sleep. A blend of Lavender, Cedarwood, Bergamot, Chamomile, Ylang Ylang pure essential oils in Jojoba Oil.
BENEFITS:
Our "Sleepy" blend will assist in encouraging a restful night's sleep. Helping to calm and soothe your mind, it's the perfect ritual to help you drift off for that deliciously restorative slumber.

Lavender - calming, anti-depressant, sleep inducing
Cedarwood - anxiety reducing, anti-stress
Bergamot - anti-depressant, calming, anti-stress
Chamomile - calming, anti-inflammatory, sleep inducing
Ylang Ylang - anti-anxiety, anti-depressant, sleep inducing, balancing

Jojoba Oil Benefits: A highly stable wax with a long shelf life. A natural anti-inflammatory said to have a composition similar to that of the skin's natural sebum, making it a gentle choice for skin application.

DIRECTIONS:
Roll directly on the major pulse points - wrists, neck, and temples.

We recommend applying a drop on inside of the elbow before use. Wait 30-60 minutes, if irritation occurs discontinue use. To remove essential oils from skin, use a pure plant oil to clean away excess oil.

INGREDIENTS:
Ingredients:  Simmondsia chinensis (Jojoba) Seed Oil, Lavandula angustifolia (Lavender) Flower Oil,  Cedrus atlantica (Cedarwood) Bark Oil, Citrus aurantium bergamia (Bergamot) Fruit Oil, Chamomilla recutita (Matricaria) Flower Oil, Cananga odorata (Ylang Ylang) Flower oil

PAIR WITH:

This beautiful essential oil roller pairs perfectly with our Lavender scented or unscented eye masks. A wonderful gifts for yourself or anyone who is going through a difficult time or has a busy/stressful routine. Sometimes it's difficult to know what to buy, but these masks are a beautiful way to encourage self-care. 
Sleepy roll on oil
Since using the sleepy oil I have had the best sleep I've had for years
Essential oil
A beautiful oil love it smell is wonderful
Refreshing Light Calming Fragrance
I used the Essential Oil Roll-on during my recent holiday. It was very nice to use when sitting on a stuffy airplane (my husband and son both used it too). The scent is not overly strong but is lovely when you need to use your mask or block out funky odours (on trains, bus, planes).